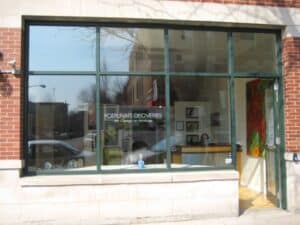 On Thursday I installed my paintings at the new art gallery opening soon in Lincoln Park. It's called "Fortunate Discoveries", it's located at 1022 W Armitage, and is a similar business model to the Andersonville Galleria. I've signed a lease and I get a wall all to myself.
Fortunate Discoveries' focus is original artwork of all types. I am one of a few 2D artists showing there, and there are jewelers, photographers, sculptors, potters and more. It's a pretty fab place!
All the artists are installing their work this week. I decided to focus on my florals, still lifes and cheery landscapes seeing that spring has made an early appearance here in Chicago. If all goes well Fortunate Discoveries opens doors within a week. Soft opening meet and greet with the neighbors is April 1 and grand opening is Friday night, May 4 from 6-9pm. Hope to see you all there!