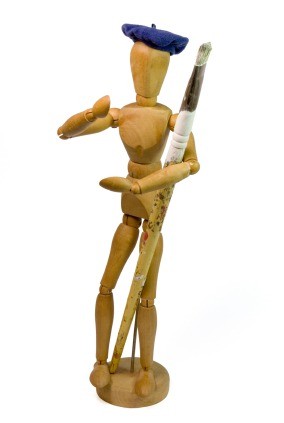 I had a great time in art school. Loved my classes, loved my teachers, loved being around art all the time. Especially loved learning new techniques and just being free to make things - all the time. It was fabulous.
I only had one problem - other artists.
Don't get me wrong - not ALL other artists. In fact most artists are pretty fabulous. But there were the ones - you know who I'm talking about - the ones who give the rest of us a bad name. The "arTEESTs". The proverbial beret and black turtleneck-wearing, mumbo-jumbo talking, flighty and irresponsible, look-down-their-nose-at-you-for-not-getting-it, art jerks. This is the kind of guy who would wear a cape or even carry a cane. Seriously.
There were a few of them in my classes and at least the ones I've met in person were not actually very good artists. But they definitely thought they were. And what they had going for them is the ability to TALK about their art. In high-falutin' terms. Ad nauseum. They talk so long and in seemingly spiraling circles that you lose track of what they're saying and stand there dumbly nodding wondering if you're the idiot or if they're really so up their own behinds that they forgot that their discourse needs to actually make sense at some point.
Problem is, I could really use one of these guys about now. I'm set with the daunting task of writing the proverbial "artist's statement". It is my goal to get into some galleries this summer and one of the things I need to prepare is this statement. When I've looked online for some samples of what these should sound like, I have to say I haven't the slightest how to begin.
I think most artists actually do have trouble putting into words all that they mean in their art. Artists in general are visual thinkers and to try to translate feelings into words seems an insurmountable task. And why bother? After all, your art should speak for itself, right? Wrong. The artist's statement is actually a really important part of selling yourself first to a gallery owner and then to art buyers as well. It is the background about who you are as an artist, what you have to offer the world and how your message can be interpreted. It is very important to get this right. I get it. I just don't know if I'm up to the job.
If you've read much of my blog you will see that I'm pretty straightforward in my communications. I don't go on for ages using esoteric language and citing obscure allusions... I simply write what I'm thinking in regular everyday language. These artist statements are lengthy discourses on influences, reminiscences, philosophies, experiences, social relevance, aspirations, etc. and peppered with so much fluff-talk that the whole exercise seriously makes me want to run the other way.
My good friend Kelly just sent me this link, "Arty Bollocks Generator" which I thought was totally hilarious! I'm thinking seriously of using it, or at least using it as a jumping off point! Just click the button and up pops an artist statement. Chock-full of the high-falutin' talk for which these statements are seemingly known.
Ugh. Well, wish me luck. My guess is my artist's statement will turn out much like the rest of what I write. Concise and informative, and hopefully somewhat interesting or amusing. I just hope it does the trick! Stay tuned!